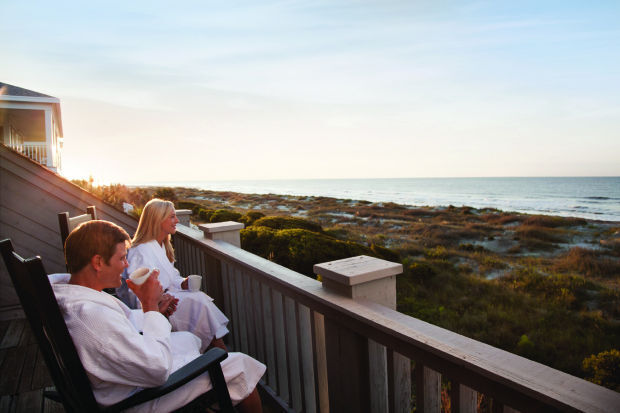 Every Thursday I like to write about a place I'd love to go or a deal I have found. 
One of the places on my bucket list is Charleston, S.C. So this email from Wild Dunes Resort piqued my interest. 
The resort, on a barrier island, has created a Charleston Culinary Experience Package where guests can embrace their inner "foodie" and meet the trailblazers behind the Lowcountry's food scene. 
Available now through December 31, 2013, the two-night Charleston, SC Culinary Experience Package starts at $209 per night, based on double occupancy and includes:

• Nightly accommodations for two nights in a one-bedroom Resort Condo.

• Guests choose one of the following four culinary tours:

* Historic Downtown Culinary Tour: This 2½-hour tour focuses on the heart of downtown Charleston through exploring the area around the Old City Market. Each tour gives guests the opportunity to meet the managers, owners, and chefs of four restaurants, as well as sample specialty dishes from each. This tour is offered Mondays, Wednesdays, Thursdays and Fridays at 2 p.m.

* Upper King Street Culinary Tour: This 2½-hour tour showcases many of Charleston's up-and-coming chefs through exploration of King Street, north of Calhoun. Each tour visits four restaurants highlighting the trendy, upscale, and innovative food scene surrounding this area, a true display of the best Charleston has to offer. This tour is offered Mondays, Tuesdays, Thursdays and Fridays at 2 p.m.

* Mixology Tour: This 1½-hour tour stops at three of Charleston's buzz worthy bars to meet the master mixologists behind Charleston's most delicious drinks. In addition to learning about Charleston's cocktail culture, guests will be provided a specialty craft beverage at each of the three stops. This tour is offered on Mondays, Tuesdays, Wednesdays and Thursdays at 5:30 p.m.

* Chef's Showcase at the Farmers Market (Saturdays only): This 2-hour tour showcases Charleston's critically acclaimed Farmers Market. In addition to meeting local farmers, the group helps pick out a selection of fruits, vegetables, and other ingredients. Those same ingredients are then sent to a partner restaurant as a walking tour of the surrounding area continues. The grand finale ends with a true farm-to-table meal at the partner restaurant, highlighting the previously chosen ingredients in a variety of perfectly prepared dishes. This tour is offered on Saturdays while the Charleston Farmers Market is open, from mid-April through mid-December at 9:30 a.m.

While on property, guests can enjoy tremendous resort offerings including 36 holes of golf, 17 tennis courts, nature excursions and eco-tours, salon and spa services, dining, recreational activities and miles of serene trails to bike, run or walk.

To make a reservation and learn more about Wild Dunes Resort, call 888.778.1876 or visit www.wilddunes.com. To book the Charleston, SC Culinary Experience Package use promo code EATCHS. Package must be booked one week in advance to arrange culinary tour.