From headaches at the airport to traffic jams to packing and unpacking, sometimes travel can be more trouble than it's worth. So sometimes, you just want to stay at a hotel that is familiar to you. A place that feels a little bit like home in a strange land. 
Another bonus to staying at a familiar hotel chain is that many of them have rewards programs that get you free stays. 
I travel a lot between my job as an occasional travel writer and as a hockey mom. When I'm in a new city, I love to stay at a local hotel, a bed-and-breakfast, something historical or unique. But when I'm on the road, needing a stop between towns or just a place to rest between hockey games, I go for chains. Over the past 18 months, I've stayed at nine different chain hotels. I've learned a lot about what I do like (tall ceilings, good air conditioning, refrigerators) and what I don't (windows that don't open, uncomfortable beds), so I thought I'd share what I've learned. 
Sure, it's possible that these particular examples are not great representations of the whole chain, but that's sort of the point. You expect a sameness when you stop at familiar names.  
Note: For prices here, we looked at an average king or double queen room on a weekday in late May, booked directly from the websites. 
GREAT STAY
Home 2 Suites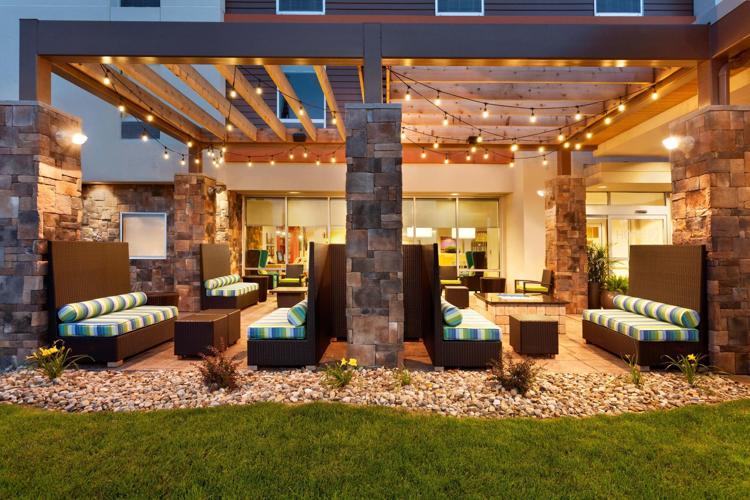 Where visited: Pittsburgh's McCandless area
Rewards program: Hilton 
Cost: $111
More info: home2suites3.hilton.com
Home2 Suites by Hilton is an all-suite, extended-stay hotel with nearly a full-size kitchen in the hallway outside the bathroom (sink, dishwasher, refrigerator, microwave; cooktops available upon request). Each room is a mini-suite with a pull-out sofa on one side and a king bed on the other, separated by a curtain. The fact that rooms with two double or queens are not available could be a deterrent for some. The hotel's focus on conservation, with conserve toilets and dispensers for shampoo and body wash are admirable. Our location, just eight miles from downtown Pittsburgh, featured a complimentary breakfast, workout room, free laundry facilities and a lovely outdoor area with sofas and fire pits. 
Best Western Plus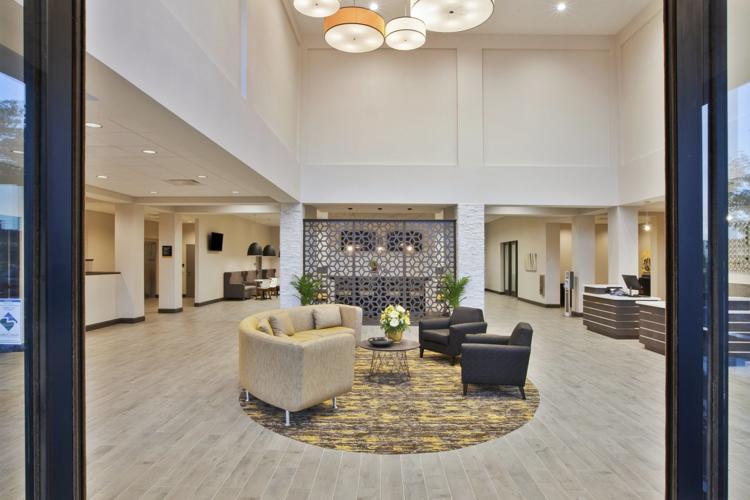 Where we visited: Cranberry Township, Pa. (near Pittsburgh)
Rewards program: Best Western Rewards
Cost: $79.15
More info: bestwestern.com
This bright, airy hotel opened in May 2018 and was a walk from the hockey rink my son was playing at as well as to a convenience store, a Dick's Sporting Goods and a number of restaurants. The lobby has multiple seating areas with bright windows and furniture. There's an outdoor seating area with a fire pit. The rooms were large with tall ceilings, big windows and plenty of space to put things. There was also a mini-fridge and microwave. We opted for a queen suite (at no extra charge thanks to the friendly staff) to give us a little more room. It was just a bigger room with an added seating area, but that seating area lacked its own TV. The air-conditioning worked great (down to 60; many rooms do not let you set it below 65). Heavy doors made it seem soundproof, and soft linens and new mattresses made the beds super comfy.
Embassy Suites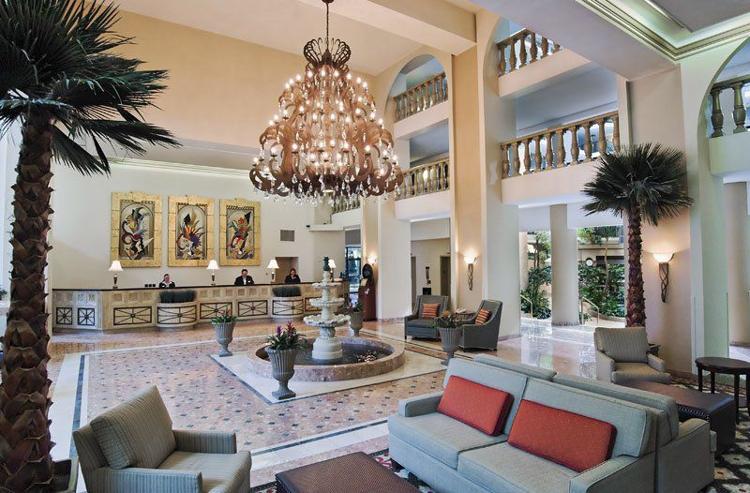 Where visited: Indianapolis North
Rewards program: Hilton 
Cost: $108
More info: tinyurl.com/y5qpzuoh
With an elegant lobby and a dramatic atrium, this hotel feels like a step up from many others on this list. Each room is a suite with a living area opening to the atrium and a bathroom and kitchenette separating it from the bedroom (with a door) in the back. It's a lot of space for a family to spread out, especially when you put the kids in the front room. The hotel also offers free breakfast (with an omelet station!) and a complimentary evening reception with snacks and free drinks. 
PRETTY GOOD
Wingate by Wyndham
Where visited: Tinley Park in Chicago 
Rewards program: Wyndham 
Cost: $118
More info:  wyndhamhotels.com/Wingate
Part of Wyndham Hotel Group, Wingate by Wyndham hotels offer all the basics and a little more. Here, you get free breakfast, Wi-Fi, business centers, indoor pool and workout center. What we appreciated were the larger guest rooms and the microwave and mini-fridge in each room. It was right off Interstate 80, so we could get home to St. Louis or into downtown Chicago (about 30 minutes) very easily. In 2018, the brand was ranked highest in guest satisfaction in the midscale segment for the fourth consecutive year by J.D. Power. This property will be undergoing room renovations from Nov. 1 to March 1. 
Hampton Inn & Suites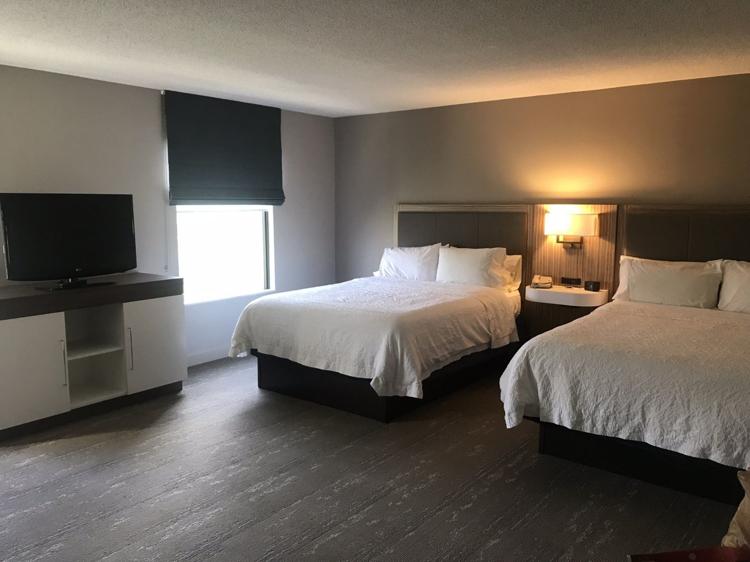 Where we visited: Estero-Fort Myers, Fla.
Rewards program: Hilton Honors
Cost: $106
More info:  1-239-947-5566; hamptoninn3.hilton.com
While I booked a basic room here, after comparing with others I was traveling with, I think I got a suite. It was a huge room, about the size of two regular hotel rooms with a wide, open space in the middle, a small kitchenette in the entryway and big windows that looked out onto palm trees outside. Recently remodeled, it was a lovely, modern hotel with most amenities, including a heated outdoor pool we used in January. The front desk attendant had recently moved from Lake Saint Louis and though he certainly made us feel welcome because of the St. Louis tags on our bags, he was so friendly I bet he makes everyone feel that way. 
Sheraton Suites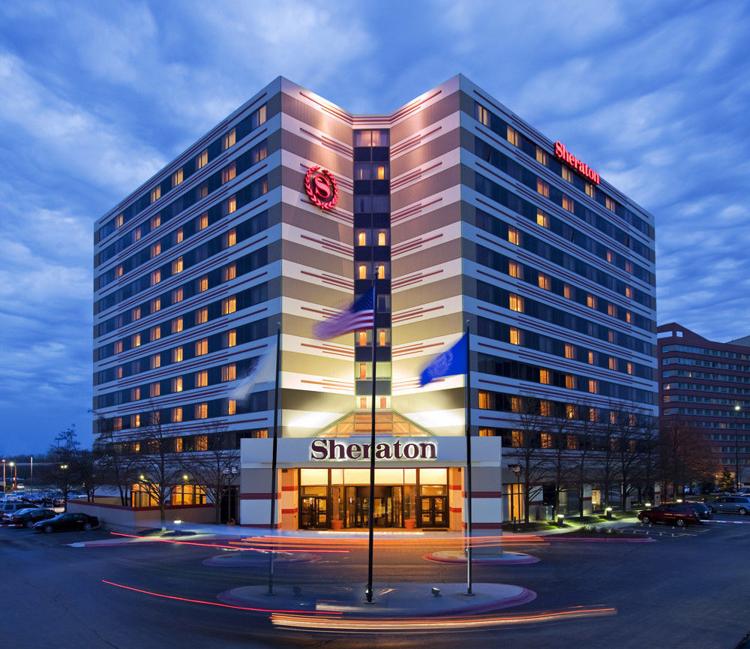 Where visited: Chicago O'Hare
Rewards program: Marriott Bonvoy
Cost: $127, though parking may be extra
More info: marriothotels.com
With a family of four, I will pay a little extra for one of these all-suite hotels every time. Like the Embassy Suites, the rooms enter onto the atrium. The living area has a TV, desk, pullout sofa and a little sink with a mini-fridge underneath. A door and a small bathroom separate it from a bedroom in the back. Ours had two double beds (not queen) with a TV, closet and dresser. The hotel, which is undergoing a major renovation, is right next to the airport, but I couldn't hear any airport noise inside our rooms. A restaurant and bar can be found on the main level as well as the biggest fitness room I've seen at a hotel. There is no free breakfast (it's $18 per person), but there is a complimentary shuttle to and from the airport.
Drury Inn & Suites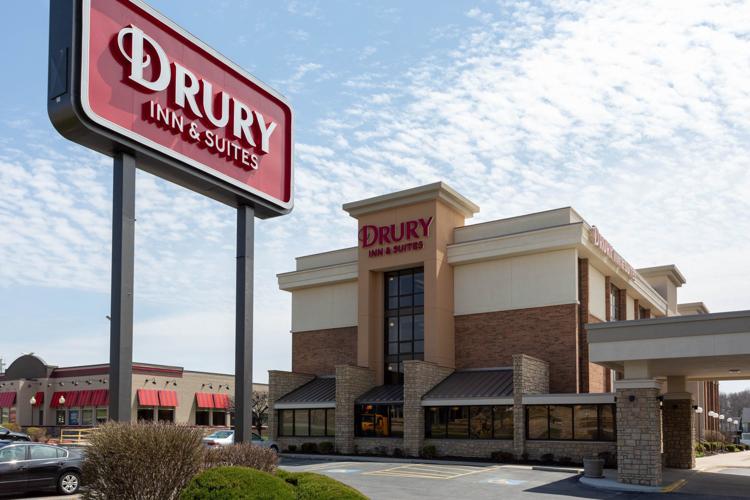 Where we visited: Merriam, Kan.
Rewards program: Drury Rewards
Cost: $104.99
More info: druryhotels.com
Though there are a number of updated Drury Inns around the country, this wasn't one of them. But what the rooms lacked in size and tall ceilings, they more than made up for with a great pool area, a nice gym, free Wi-Fi and a really good breakfast. And the Creve Coeur-based hotel chain has figured out a trick to make me choose them almost any time it's feasible: its signature Kickback, a free happy hour (two hours, really) every day where guests can get appetizers and drinks (including wine, beer and spirits) in almost all of the chain's properties. If you have kids, those appetizers are easily meals: chili, pasta, salads, hot dogs, baked potatoes and more on our visit. Oh, and they serve popcorn all evening long. 
ONLY AVERAGE
Holiday Inn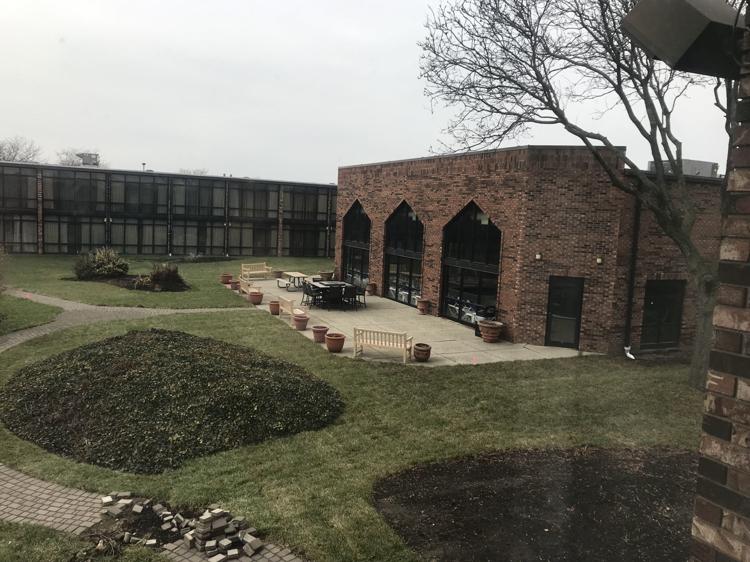 Where we visited: Detroit-South
Rewards program: IHG Rewards
Cost: $98.79
More info: ihg.com/holidayinn
I actually went to two Holiday Inns within a two-month time frame last year (in Detroit and Philadelphia), and both were under construction, which I suppose is a good sign that this chain is making improvements. Holiday Inns were opened in 1952 by Kemmons Wilson, a Memphis, Tenn., native who built his own hotel after being disappointed by inconsistent accommodations on a family road trip. Holiday Inns are now owned by a British group and are part of the IHG chain of hotels. The Detroit version I stayed at was bigger, with the rooms formed around an outdoor courtyard. On one side of the courtyard was a gorgeous indoor swimming pool, perhaps the largest and with the largest deck area I've seen at a chain hotel. The rooms were average size, the lobby was average, the breakfast was average, but they did have a really fun live band in the evenings. With the construction, though, the band played in an average conference room. 
Comfort Inn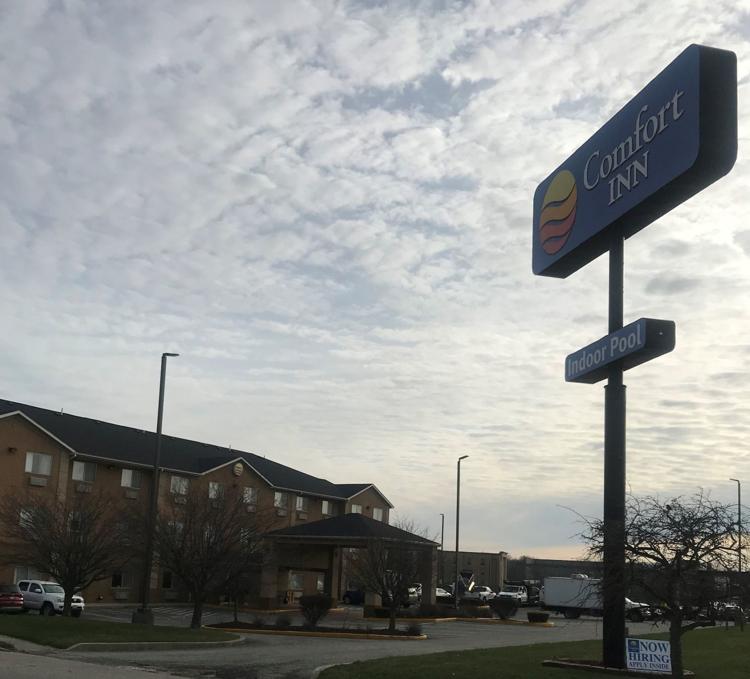 Where we visited: Greenfield, Ind.
Rewards program: Choice Privileges
Cost: $87
More info: Choicehotels.com 
We stopped here for a quick overnight stay on the way to Pittsburgh. As a place to sleep, it was perfect (beds were comfy, rooms were cool), but it's a fairly bare bones hotel with tiny hallways leading to smallish rooms. The complimentary breakfast was only so-so, with limited hot-food offerings, but it did have a waffle maker, yogurt, cereal and most other staples. A small pool right off the lobby made the place smell of chlorine as you entered, which isn't necessarily a bad thing. This location was conveniently located right off Interstate 70 and near a Starbucks and Walmart.