Some day, if the proposed science-fictiony Hyperloop gets built in Missouri, linking St. Louis and Kansas City, we'll be able to hop into a pneumatic tube and vault across the state at 600 mph. The whole trip will take less than 30 minutes, so the promoters say. In the meantime we'll go by car, or RV, as my husband and I did on a recent occasion, driving frenetic Interstate 70, which spans the state's midsection like a moving conveyor belt. We've done it many times — and rather like the drive despite the steady procession of semis.
Of course this trip was different (not the semis part). For months, now, we've been sheltering in place and social distancing, wearing a mask whenever we've been in the company of others. But we'd been feeling a little cabin feverish and were hankering to travel like we normally would do. So we hit the trail — despite a little trepidation — knowing wherever we went certain restrictions would be in place.
Kansas City, Missouri, and Kansas City, Kansas — with the Missouri River flowing between them — have several attractions that, for us, can't be visited often enough. Favorites are the Arabia Steamboat Museum and the National WWI Museum and Memorial in Missouri, and the Lewis and Clark Historic Park at Kaw Point in Kansas, though of course the towns offer more. For now, masks are mandatory nearly everywhere.
Kansas City, Missouri
The Arabia Steamboat Museum opened in 1991, and we were among its first visitors then. The side wheeler, new in 1853, would, like so many other steamboats of the era — 1820 to 1870 — not last long on the Missouri.
Loaded in St. Louis with some 200 tons of supplies bound for the frontier, the ship made a stop in the Town of Kansas (today's Kansas City), and on Sept. 5, 1856, continued north. But just 10 miles on, it hit a snag and within minutes went to the bottom.
The 130 folks on board all escaped safely, but there was one fatality, a poor mule, saddled, bridled and tied up on deck. And the entire cargo was lost. The river changed course, and eventually the Arabia would lie 45 feet below a Kansas cornfield.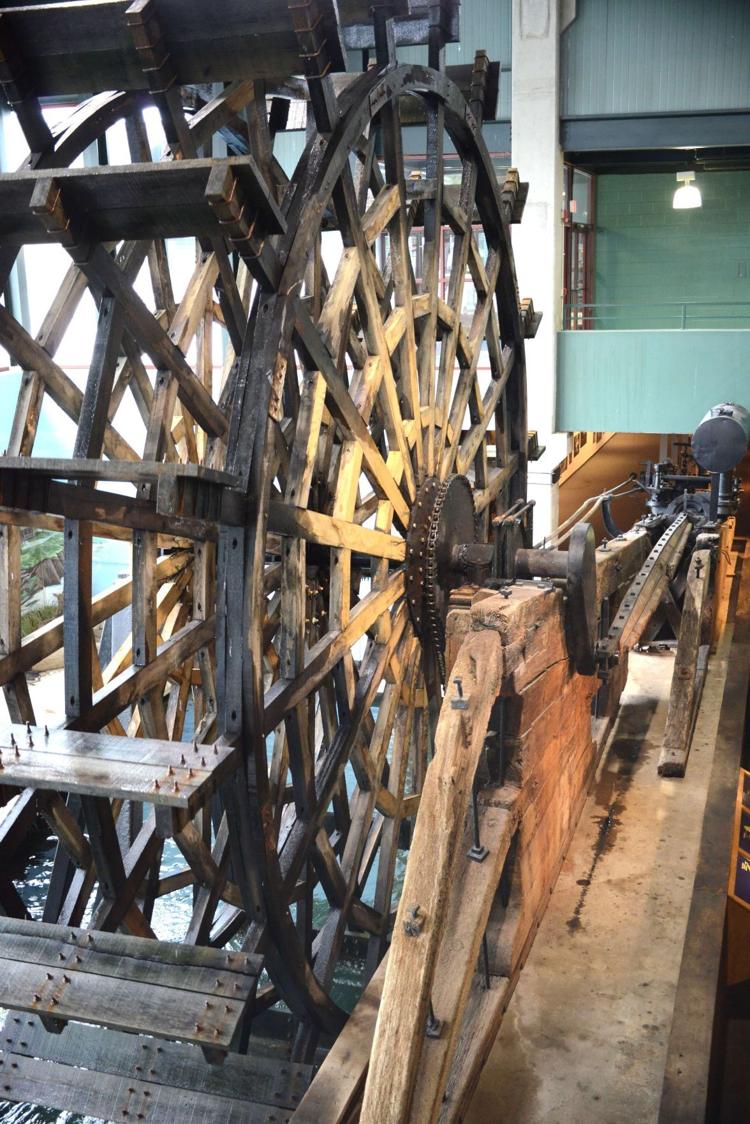 It was discovered there more than a century later by treasure hunters Bob Hawley of River Salvage, Inc. and his sons David and Greg. The farmer agreed they could dig, in winter, and, joined by a couple of friends, they began excavating in 1988. Videos and photos chronicle the project.
Hundreds of thousands of items were retrieved: every hand tool imaginable, boots, eye glasses, gold earrings, a million Italian trade beads alone and much more, even canned fruit and bottles of champagne. Items now restored, plus the mule's skeleton and other exhibits, are displayed on the replica 171-by-30-foot deck. The 28-foot paddle, much of it original, turns slowly alongside. ($14.50 adults; 1856.com)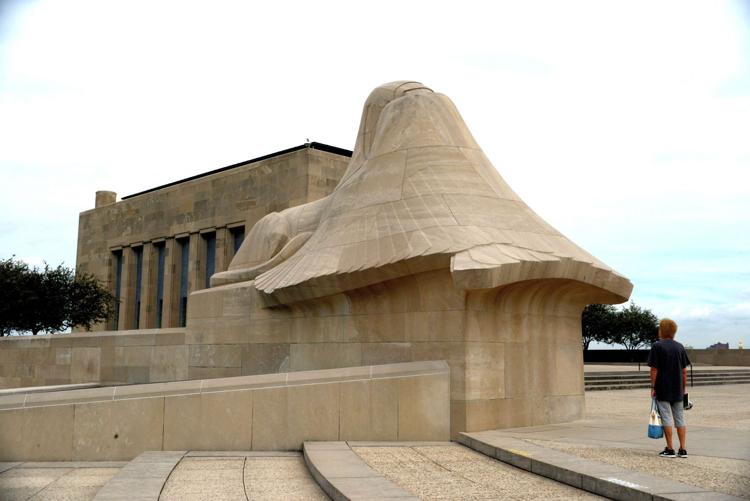 Next day, as on our two previous visits, we wished for more time at the National WWI Museum and Memorial. But we'd set up a tight schedule, so two hours it was. The museum, home to more than 300,000 "objects" (weaponry, vehicles, uniforms, recruitment posters, etc.) and documents, began as the Liberty Memorial on November 11, 1926, exactly eight years after the Armistice. The much larger museum you tour today opened in 2006.
Two Assyrian sphinxes guard the memorial's entrance, wings drawn over their eyes, "Memory" facing east, unwilling to view the horror of war, and "Future" facing west, eyes shielded from what's to come, explained Mike Vietti of the museum. The iconic Liberty Memorial Tower (currently closed), which rises 268 feet above the North Lawn is a familiar local landmark.
Entering and exiting the museum you cross the glass Paul Sunderland bridge, beneath which lies a field of 9,000 red poppies, each one representing 1,000 combatant fatalities in the war. As we were leaving and stopped to look at it again, a man approached, didn't identify himself, but handed me a copy of the poignant John McCrae poem "In Flanders Fields." "In Flanders Fields the poppies blow / Between the crosses, row on row,/ That mark our place ..." ($18 adults; theworldwar.org)
Next stop, the Negro Leagues Baseball Museum. This 10,000-square foot museum, through photos, videos, text and memorabilia, chronicles the history and heroes of the game (and their struggles) from its origins after the Civil War, through the founding of the Negro Leagues in 1920, to the final disbanding of the Negro National League in 1948, and the Negro American League in 1960.
Centerpiece of the museum is Coors Field of Legends, with 10 life-size bronze statues of Negro Leagues greats in their positions: pitcher Satchel Paige of the Monarchs, left fielder Cool Papa Bell of the Grays, among others. ($10 adults; nlbm.com)
In front of cavernous Union Station, hinting at what's inside, is a 25-foot T-Rex wearing a mask. Parisi Cafe and Harvey's Restaurant plus several gift shops were doing a brisk business, but we'd come for the station's recently opened "Dinosaur Road Trip" (tickets are timed for limited capacity per hour). In a low-light setting, visitors walk past 26 life-size and life-like animatronic dinosaurs (they move and roar) and 15 famous roadside attractions, following a "drive" through 18 states. For instance: Jurassic monster 80,000-pound Supersaurus, 54-feet tall and 140-feet long, "poses" beside a replica of the Gateway Arch. This delightful "road trip" will be open till early January. (Free to enter Union Station; $12 adults for the dinosaurs; unionstation.org)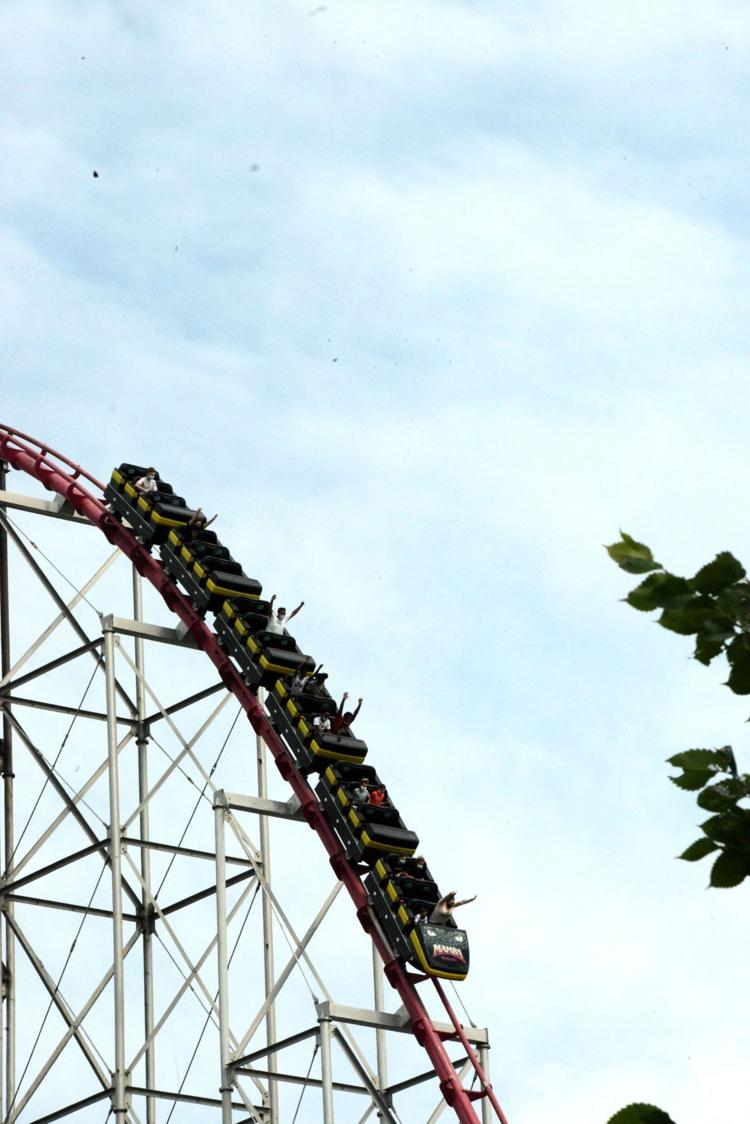 Our visit to Kansas City, Missouri, ended with a hot afternoon at 235-acre amusement park Worlds of Fun (or more accurately, "world of roller coasters" — there are seven). Tracks that loop and climb towering arches seem to be everywhere with trams thundering along them. The park, new in 1973, also features numerous spinning rides, the tamest of which is an old-fashioned carousel. Due to coronavirus, only a few of the food concessions were open, and 64-acre water park Oceans of Fun was shuttered.
Worlds of Fun also has a fine campground, where we stayed. It stretches up a tall hill northeast of the city, and offers a high-up lovely view of the distant downtown. ($29.99; worldsoffun.com)
Kansas City, Kansas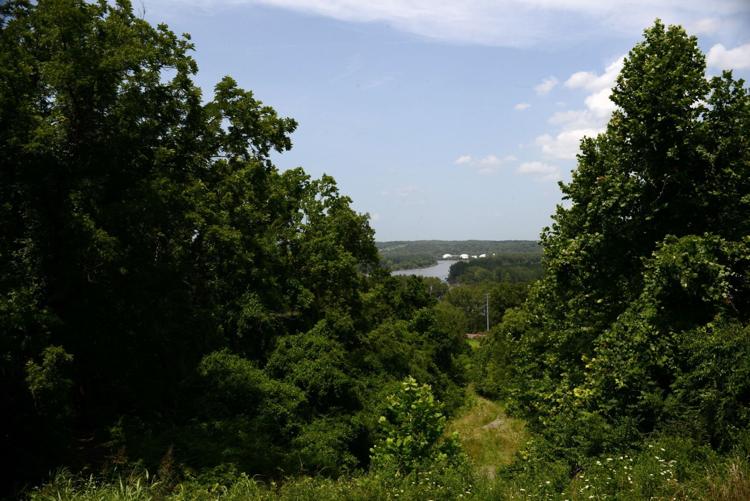 On to Kansas City, Kansas. Unfortunately, indoor attractions we'd hoped to visit had recently closed due to the virus: Moon Marble Co. (in nearby Bonner Springs), Kansas Speedway, Old Quindaro Museum and Quindaro Underground Railroad Museum. But Quindaro Ruins Overlook, where a 45-foot diameter octagonal stone pavilion provides a dramatic panorama of the Missouri and grassy slope where the town once stood, can be visited any time.
Quindaro — named for Nancy Quindaro Brown, the Wyandot Indian wife of town founder, Ohio abolitionist Abelard Guthrie — was begun in 1856 as a port of entry for free soil immigrants into Kansas. With a population that was part Indian, part white and part free Black, Quindaro became an important station on the Underground Railroad for escaped slaves from across the river in Missouri. But when the Civil War broke out, it was abandoned, and today little remains but a memory. A statue of abolitionist John Brown stands nearby.
In the early 1840s, Wyandot Indians, also called Huron Indians or Huron people, were forced from their homes in Ohio, Michigan and Ontario and sent to Kansas, where they established a town (Kansas City, in today's Wyandotte County). A grassy two-acre hilltop in the center of town was dedicated as Huron Park Cemetery in 1843, and about 600 Wyandots were buried here over the years, a sign reads. Graves seem to have been placed at random in this peaceful, shaded and breezy place, and with few markers.
A small courtyard at the entrance to the cemetery displays 11 bronze placards telling the story of the "heroic and bitter" Wyandot Nation, "once among the greatest Indian tribes of the Northeast, a warrior race betrayed by time, circumstances and the white man."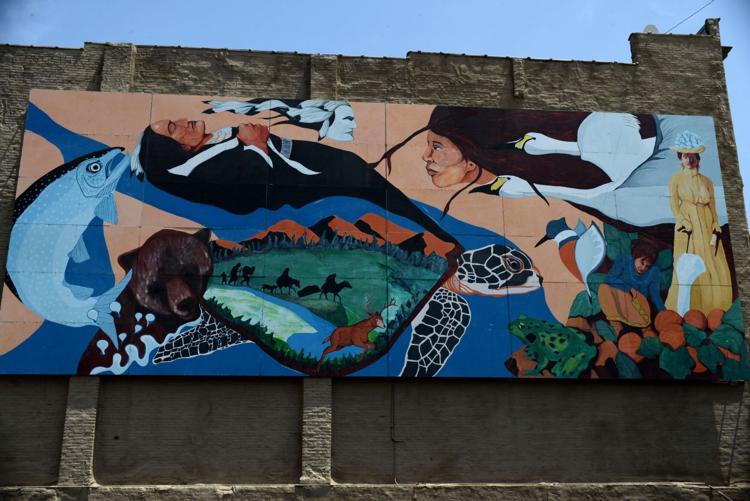 The Avenue of Murals on a four-block corridor along Minnesota Avenue is a must-see. The project, which produced eight colorful and beautifully painted murals, was begun in 2004, done by local high school art students directed by professional artists-in-residence. Among the murals, at 636 Minnesota, a block from the cemetery, is "Wyandot Echoes." Maps of the walking (or driving) tour are available.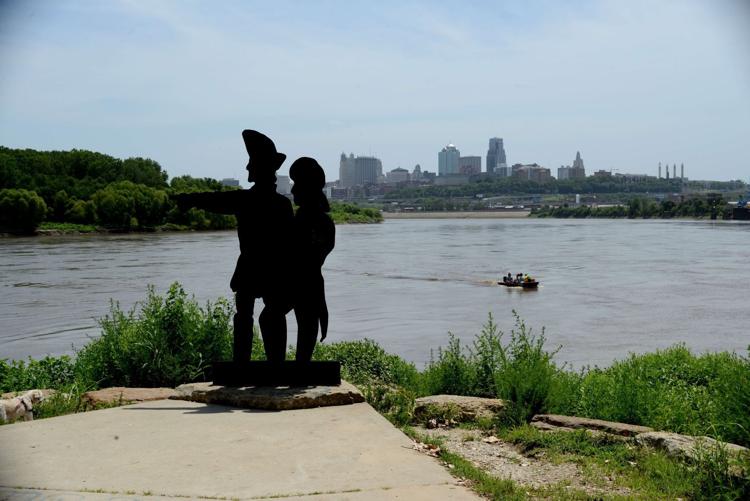 Our last stop was at Lewis and Clark Historic Park at Kaw Point, a 10-acre park with interpretive signs and a walking trail, overlooking the confluence of the Kansas River (also known as the Kaw) and the Missouri. Here, on June 26, 1804, the Corps of Discovery "arrived in three boats, with four horses and a dog." They camped for three days "to repair their boats, explore the land and rest."
We'd visited this beautiful place several times over the years, and this time were sorry to see 18 of the signs gone, and the four remaining so defaced with graffiti they're hard to read.
But we recommend walking the trail and lingering a few minutes on the Point, where you have a fine view across the Missouri of downtown Kansas City. A life-size metal silhouette of the explorers gesturing north stands at the edge of the churning river. In his journal Clark wrote that "rowing the boats on the Missouri River was like trying to ride a wild animal." And from here they had many miles to ride yet ahead of them. (lewisandclarkwyco.org)
---
GET OUT OF TOWN with our weekly newsletter full of tips, tales and reviews.