CASEY, Ill. • Here, in the shadow of the World's Largest Rocking Chair, even closer to the shadow of the World's Largest Wind Chime, the guys in the workshop give one another a knowing look when Jim Bolin pulls up in his pickup and climbs out with something in his hand.
It might be a napkin with a sketch on it. Or, perhaps, a gavel.
"People ask where we get all these ideas," said Jeff Boshart, 60, a retired sculpting professor from Eastern Illinois University, now a full-time sculptor for Bolin. "We say Jimmy. He spends all that time in the truck alone."
Boshart spoke, taking a break from sanding. Wood dust hung in the air. Behind him, a 17-foot, 2-inch-long form of sanded, white oak lumber rested on the floor. If all goes well, after the applications to the Guinness World Records go through, it will be certified as the World's Largest Gavel.
Welcome to Casey. The locals pronounce it more like "Kay-zee." It's a town of about 2,700 people just south of Interstate 70, about halfway between St. Louis and Indianapolis. It has a small Main Street, which, like those in many small-town USAs, has seen better days.
But just this summer, the Casey City Council voted to reduce the speed limit on a stretch of Main to 20 mph because so many pedestrians were walking through the town, gawking.
Because just in the past four years, Casey has these new things: the world's largest mailbox, golf tee, knitting needles, crochet hook, wooden shoes and pitchfork. That's in addition to the rocking chair and wind chimes.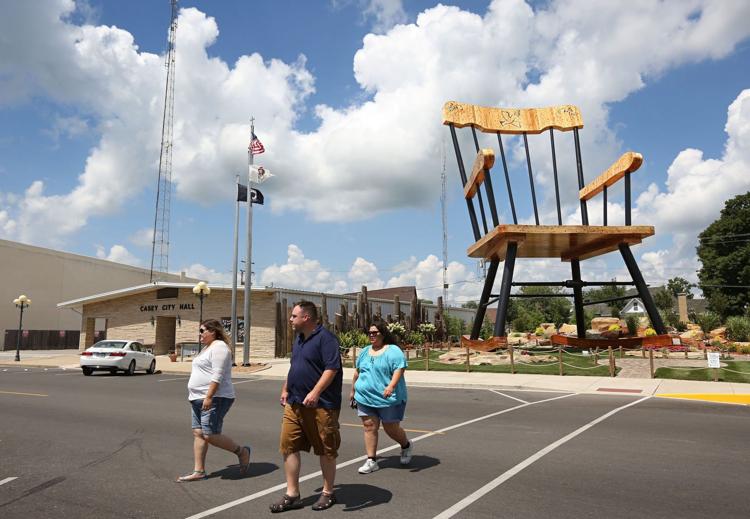 It also has big things, which are impressive but don't hold records: an ear of corn, saguaro cactus, bird cage, yard stick, wooden coin, balsa wood plane, yellow Minion and pencil. (The world's largest pencil, by the way, is housed in the City Museum in St. Louis. The World's Second Largest Rocking Chair, which the Casey chair knocked out of its record title, sits in Fanning, Mo., along Historic Route 66.)
Casey and a photo spread of its big things are featured in the 2017 edition of the Guinness World Records, released earlier this month. Kristen Ott, the spokeswoman for the Guinness World Records in North America, traveled to Casey earlier this year. She also met Jim Bolin, the man behind the big things. "From our perspective, it's amazing," she said. "I don't know that there's anyone quite like him who has done it specifically to help the local economy."
Bolin, 52, grew up in Casey. He's a mild-mannered, devout man. He also likes to work with his hands and think of solutions. Over the years, he's watched several Casey businesses close or move: a shoe factory, the Casey Tool & Machine Co., SKF Manufacturing, a hardware store, a feed store and more. "That's just the ones on top of my head," he said.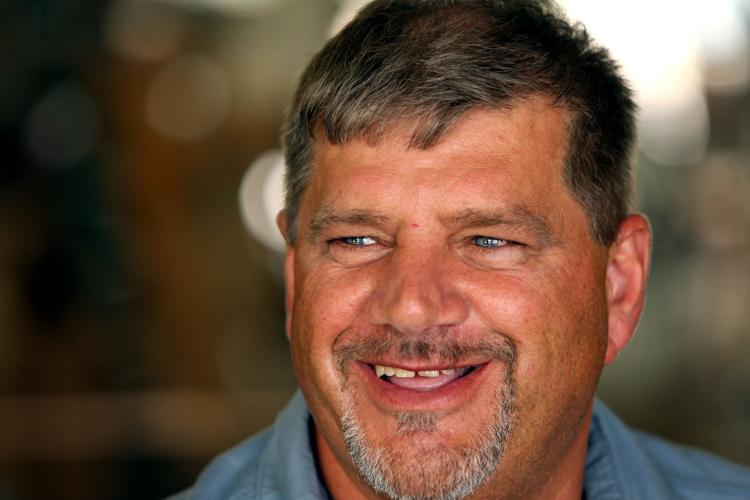 Bolin got the idea for making big things about seven years ago. He and his wife, Diane, and children, Jessica and Drew, vacationed in Silver Plume, Colo., where Diane and Jessica fell in love with a tea shop. They talked about opening one in Casey, but they didn't like the idea of competing with what was already in town.
Jim Bolin thought outside the box. His Grandma Whitling always had wind chimes. Bolin liked wind chimes, and the sound of them outside his door reminded him of his grandma. Why not make giant wind chimes?
After all, the Bolins had easy access to pipes. Big pipes. Bolin's the vice president of Bolin Enterprises Inc., which his dad, Ed, started in 1986 as a paint and body shop out of the family garage. It grew and now employs 240 people, and now does oil and natural gas pipeline maintenance work across nearly half the country.
His mom, Judy, is the company president. His dad is retired and started his second stint as the town's mayor in 2013. Bolin Enterprises, unlike so many other businesses in Casey, stayed and flourished. The Bolins wanted to help Casey and give back.
"Maybe this," said Bolin, "can be what helps save the town."
After two years of planning and construction, they placed the chimes in December 2011 on a previously run-down block.
A couple years after that came the World's Largest Golf tee, placed at the Casey Country Club. Bolin Enterprises' operations manager, Mike Bohannon, was also president of the club, and the two thought it would be a good idea to promote tourism and help the town.
The ideas kept coming. Bolin Enterprises already had a paint shop, a welding shop and access to talented craftspeople. Jim Bolin likes to chainsaw carve. They had access to materials such as old telephone poles (used to make the rocking chair) and oil tanks (used for the mailbox top and bird cage bottom). Most of the big things are made from recycled and repurposed materials.
One thing common to the big things: Each big thing has a piece of scripture written on or near it. The message has something to do with the object — a psalm about knitting on the needles, for example. "It's not a self thing or a company thing," Bolin says. "We give our glory back to our God. We have faith in him that this will help our small town."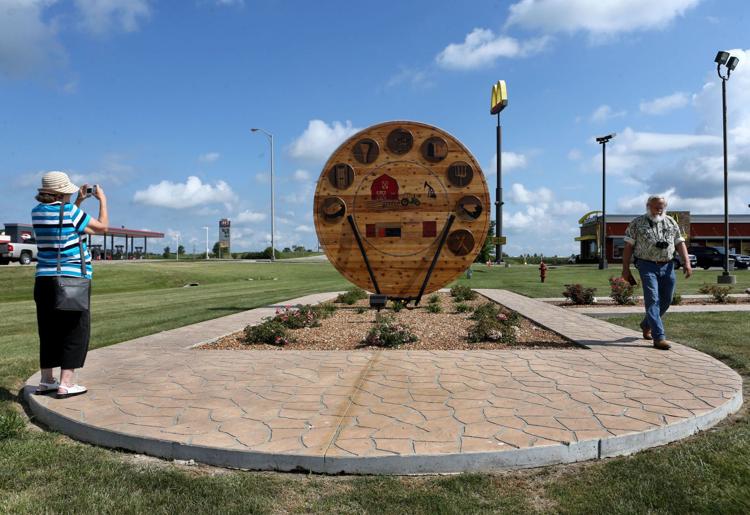 Jeanette Huisinga is Diane Bolin's cousin and the owner of the Yarn Studio, a yarn shop on East Main Street. Jim Bolin came to her one day with the idea of giant knitting needles and crochet hook. She agreed, and not long after, the delivery came on the back of a flatbed truck.
In order to make the Guinness Book, big things have to be functional, so she cast on 10 stitches and knit 10 rows in front of the students at Monroe Elementary School, where Diane Bolin works as a counselor. "I felt like I was on a rowing machine," she said. "Because you're like, forward, back, wrap around, forward, back. It's a workout."
She's since sat on top of the World's Largest Rocking Chair with the World's Largest Knitting Needles, knitting what could be the start of the world's largest scarf. They used a manlift to get her up there, just for fun.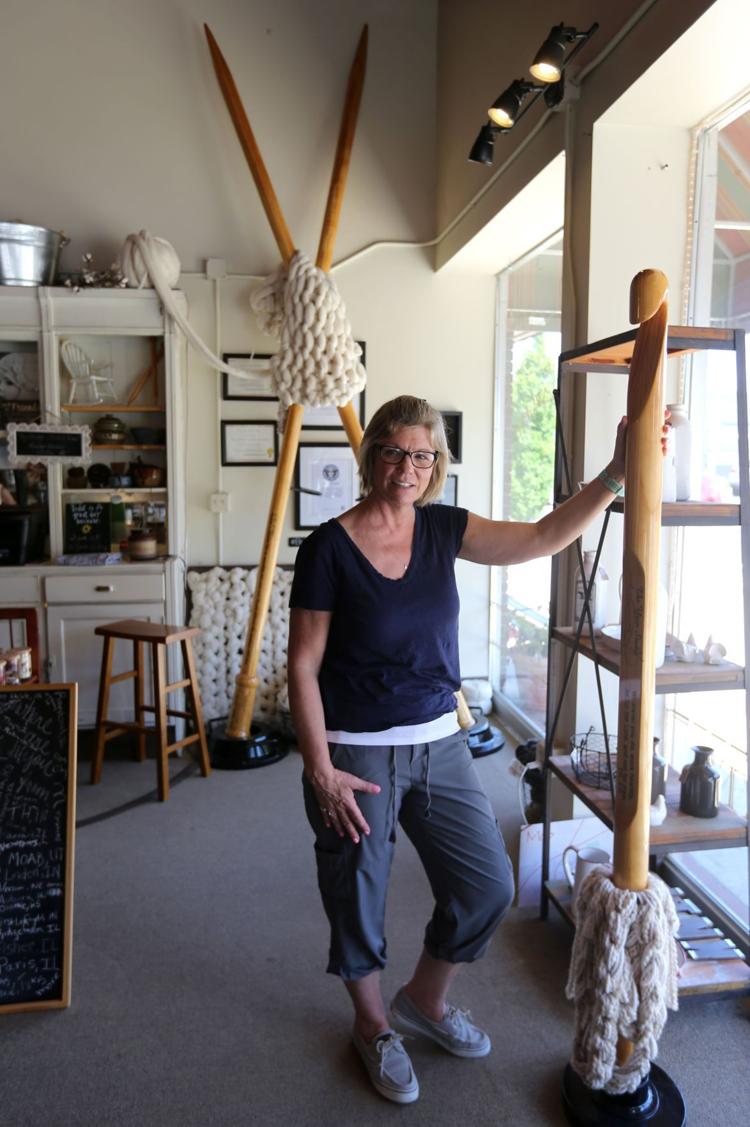 Since the needles and hook went on display in her shop in 2013, her shop has expanded to a second room. She cleans fingerprints and nose prints off her shop windows "all the time." She now carries home décor items, jewelry and baby items, which the tourists who don't knit like to buy.
"I think we're all just kind of amazed," she said, by what the big things have done for the town.
Dave and Bev Liebenow opened Casey's Candy Depot in May. The store is inside the old city machine shed building that Bolin renovated, and it houses the World's Largest Wooden Shoes. About 75 percent of those who come in are tourists, looking for the shoes, and the store makes about 100 transactions a day.
"There's a huge opportunity here, and we haven't even advertised," Dave Liebenow says. People come from all over the world, and they also buy pre-stamped postcards to mail from the World's Largest Mailbox, which sits in front of the depot. It has a giant red flag that raises when somebody slips a postcard into a slot inside. The post office hand-stamps up to 100 postcards a day with a special World's Largest Mailbox postmark.
"What they are finding here is unbelievable," he says. "They are totally impressed. They think they are here for a 20-minute stop for a windchime, then they're still here two hours later."
The Liebenows hope to help others through the store: They carry candy made by family-owned and small businesses. And people started throwing money inside the shoes for good luck. The depot donated the money to the Clark County Food Pantry. By the end of August, they raised more than $1,600.
Bolin says when this all started, about half the people in town were enthusiastic and about half thought it was crazy. Now, he says, maybe about 5 percent think it's crazy. Bolin Enterprises owns most of the property where the big things are placed, and they landscape the land and make it attractive to visitors.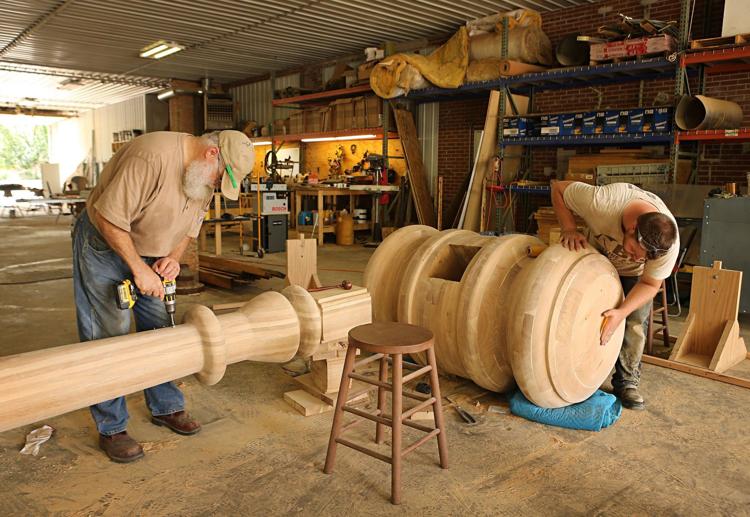 The Bolins have plans. They've opened the Big Things in a Small Town Workshop, where visitors can watch craftspeople make the next big things — the gavel, a giant rocking horse, big baseball bats and a giant golf club to go with the tee. Bolin is planning to build the world's largest teeter-totter in the city park, one big enough for a family to enjoy. A Big Things in a Small Town foundation is housed under the town's business association.
About 500 people come through the workshop daily in the summer, with up to 100 in the winter. A trolley runs on the weekend from big thing to big thing.
A craft store will open in the coming months, as well as an antiques store, ice cream shop, bakery and a small hotel. Next to the wind chimes, Jessica and Diane Bolin now operate their tea shop, called the Whitling Whimsey. While people sip tea and eat sandwiches, they can look for the more than 100 objects in the store that start with the letter W.
Eventually, Bolin will slow down on making big things. He wants to turn the workshop into a space where children or people with disabilities can learn skills and help maintain the big things.
It tickles his heart to see families having fun together with the big things, Bolin says. He likes seeing them take pictures, smiling and, perhaps, taking in the scriptures written on and near them.
"The stuff is cool," he says. "But the thing is really the people, the visitors in town. That's what makes my heart happy about what is going on."
---
Certified 'world's largest' items
Wind chime: Next to Whitling Whimsy Cafe at 109 East Main
Rocking chair: Across from wind chime at 100 East Main
Knitting needles and crochet hook: In the Yarn Studio at 2 East Main
Wooden shoes: inside Casey's Candy Depot at 20 West General Robey
Golf tee: Casey Country Club, 203 Northeast 13th Street
Pitchfork: Next to Richards Farm Restaurant at 607 Northeast 13th Street
Big things
Yard stick: 101 North Central Street
Wooden coin: At Casey State Bank at 936 Illinois Route 49
Balsa wood plane: Inside Casey Municipal Airport off County Road 1100 North
Minion: 107 West Main Street
Big Things in a Small Town Workshop: Behind Whitling Whimsy Cafe and the World's Largest Wind Chime at 109 East Main; bigthingssmalltown.com
Book signing event: On September 24, 2016, Casey plans to celebrate by hosting a Guinness World Records 2017 book signing event from 10 a.m. to 2 p.m. at Whitling Whimsy Café, 107 East Main St. Special edition books will be for sale. Jim Bolin and several of the team members that helped create the items will be available to autograph the books.
Need to get away?
Start exploring magnificent places with our weekly travel newsletter.