Hannibal, Missouri, and Hartford, Connecticut, have little in common geographically, culturally and historically. One could easily consider them polar opposites, except for one commonality. Each claims Mark Twain.
Born Samuel Langhorne Clemens, Twain's childhood experiences and observations of Hannibal combined with his luxurious Gilded Age lifestyle enjoyed later in life in Hartford defined his personality and inspired his writings. The yin and yang combination yielded such classics as "The Adventures of Huckleberry Finn," "Life on the Mississippi" and "The Gilded Age," which mirrored Twain's own life of extremes. Rustic and unpolished to garishly wealthy: These lifestyles are preserved at his Hannibal and Hartford homes, which between the two Twain found paradise.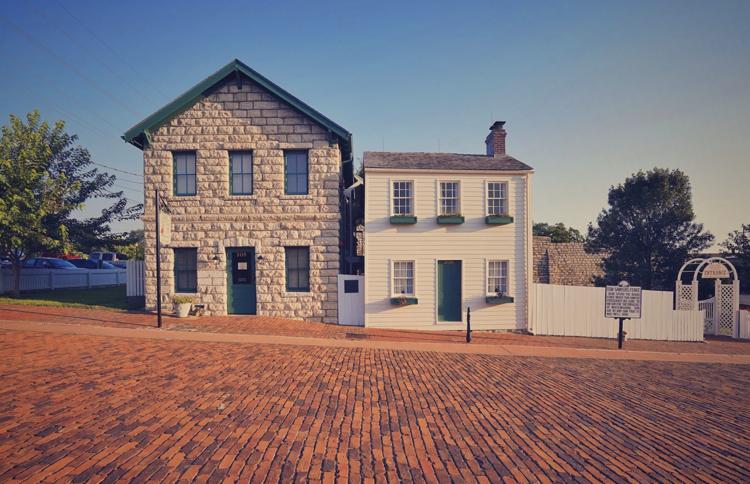 Hannibal
"I was born modest, but it wore off," Twain wrote. The same could be said for Hannibal, evolving from a frontier river town into Missouri's third-largest city by the 1850s, when young Sam Clemens was a teenager.
Hannibal's impressive growth was achieved by its location — a crossroad for river and railroad commerce until the Civil War and progress bypassed the town. But Hannibal remains a tourist destination for more than 300,000 visitors from more than 70 counties who seek the haunts of Huck, Tom and Becky while roaming Hannibal's streets and exploring the landmarks Twain made famous.
To discover Hannibal, begin at the riverfront, where Twain was seduced by the Mississippi and where he dreamed of becoming a steamboat man.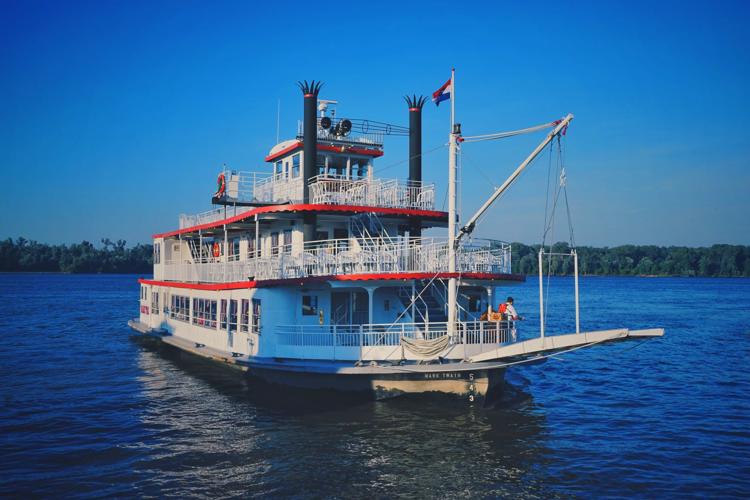 "Our riverfront revitalization is continuing to move forward with a complete date targeted for October," Megan Rapp, Hannibal's Convention & Visitor Bureau assistant director, said last week. In addition to a new greenway, playground and event spaces there's a new marina and "docking space that affords space for more than one large steamboat like the American Queen to dock at a time."
To catch the sight of a Mississippi steamboat at the Hannibal dock, cross-check the schedules and plan a visit accordingly. If schedules don't mesh, no worries. The Mark Twain Riverboat, a reproduction paddlewheel steamboat, cruises daily (river conditions allowing) from April until November, offering affordable hourlong sightseeing excursions ($21). Consider capturing a view of the shoreline at twilight, a time when the river's surface seems to sparkle, by opting for the two-hour dinner cruise ($43.95). As Twain would agree, there's no better view of Hannibal than from the middle of the Mississippi (marktwainriverboat.com).
Two blocks west from Hannibal's levee, at the intersection of Main and Hill streets, the concrete roadbed ends. Replaced with brick and roped off from traffic. It's a signal to park and stroll the street where the Mark Twain Boyhood Home & Museum is located. A collection of five properties and two museums are part of the collection ($6-$12, marktwainmuseum.org).
The Mark Twain Interpretive Center & Museum, tucked on the backside of Hill Street between Huck Finn's and Twain's boyhood home and garden, offers more than a place to buy tickets. Its museum provides a refresher course on Twain, along with related Hannibal and Clemens family history. Visiting scholars to general tourists with kids find it hard to resist the interactive exhibits that provide a chance to ride a river raft or whitewash a fence.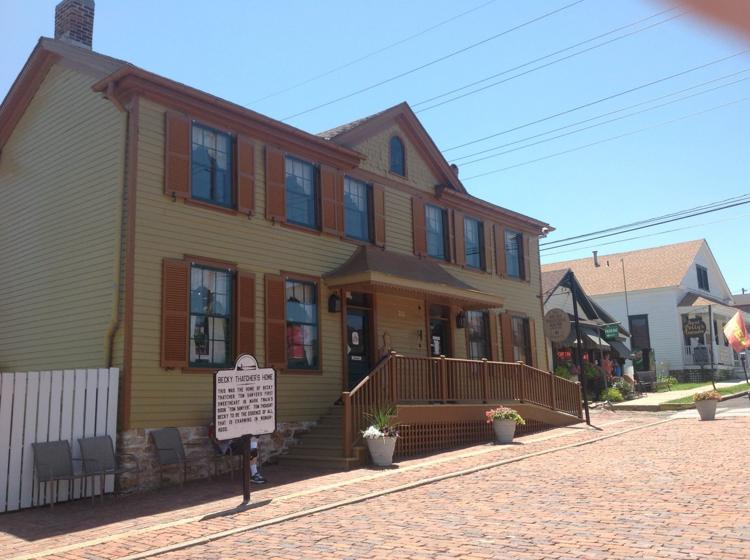 "Twain was one of the few authors who connects real places, experiences and the people he knew," Rapp said. "He tells us Becky Thatcher was based on Laura Hawkins. Tom Blankenship was the inspiration for Huckleberry Finn, and his mother was Aunt Polly. Visitors come wanting to see where the people lived and the places Twain wrote about like the cave and Cardiff Hill, which was originally named Holiday Hill."
Twain changed the name of Holiday Hill to Cardiff Hill in "The Adventures of Tom Sawyer." Oddly enough, after so many people came looking for Cardiff Hill, Hannibal decided to change the name. The cave, originally called McDowell's, renamed MacDougal's Cave, in his books, never had an identity problem. Today it's simply known as Mark Twain Cave, Missouri's oldest show cave.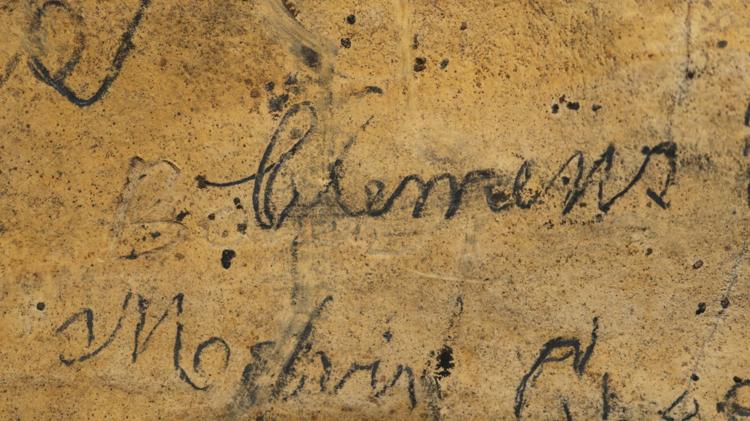 Mark Twain Cave is part of an attraction complex that includes Cameron Cave, Missouri's newest show cave. Cameron Cave is toured by lantern and flashlight, much like Tom Sawyer would have. No need for lanterns at the Mark Twain Cave. It's electrified, helping to illuminate a fraction of the hundreds of thousands of signatures that cover its walls. The oldest signature dates to 1823 and include the marks of the famous and infamous, including Jesse James and the most valuable and exciting signature discovered last July: The signature of Sam Clemens.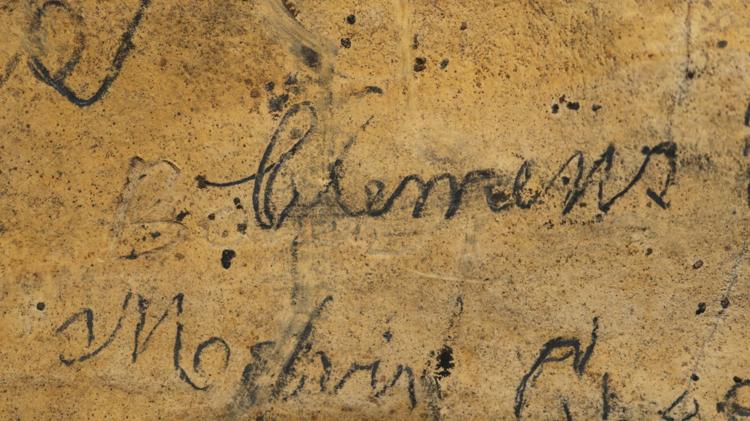 "We all knew it had to be somewhere; then during a tour, boom. There it was," said Gary Rush, 66, who began leading tours at the cave as a teenager. "Finding it was pure accident. We just happened to be in the right place at the right time. If you look closely you can see the S is etched into the rock. I guess it was too hard so, Twain gave up and finished signing Clemens in pencil."
The signature is in plain view, covered with a plastic shield. It can be seen on every tour as it has become the highlight of the spelunking adventure (adults can tour both caves for $36.90, marktwaincave.com).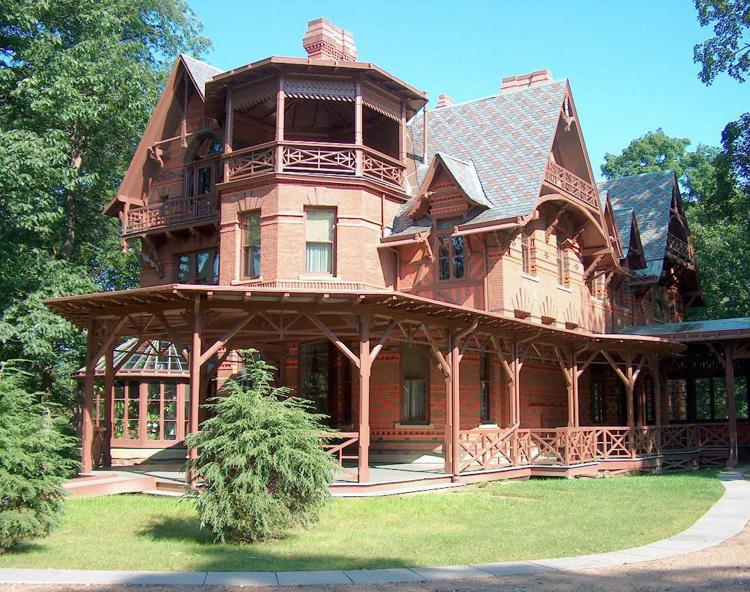 Hartford
Mark Twain described his Hartford home as a combination Mississippi River steamboat and cuckoo clock. After taking a tour of the 25-room mansion, I agreed. Its eclectic architectural design and Victorian interior elements exemplify the Gilded Age's infamous conspicuous display of wealth. Excesses and indulgences Twain satirized but personally reveled in. Knowing this, the house was everything I expected. The same can't be said for every visitor. Many come expecting Twain's Hartford home to mirror his humble digs in Hannibal.
"It's a surprise to some visitors who aren't expecting this rather grandiose mansion," says Pieter Roos, executive director of the Mark Twain House in Hartford. "But Twain was never one to hide his light under a basket. He reveled in the lifestyle his success afforded him. Hartford was Twain's alter ego."
Hartford attracted Twain for several reasons. The city was prestigious and progressive and was a center for businessmen, intellectuals and artists. It was also home to Twain's publisher.
Shortly after marrying, Twain moved his family to Hartford in 1871 and began building his showplace in the exclusive Nook Farm neighborhood. Construction was completed in 1874. Nook Farm was named for its location, which hugged the nook (bend) in Park River. With time, Nook Farm's upper-crust reputation waned and disappeared. Even the Park River disappeared. The Army Corp of Engineers buried it in the 1940s as a flood control measure. Twain's home there is one of the few that remain. Designated as National Historic Site, it preserves the residence where Mark Twain experienced his most productive years.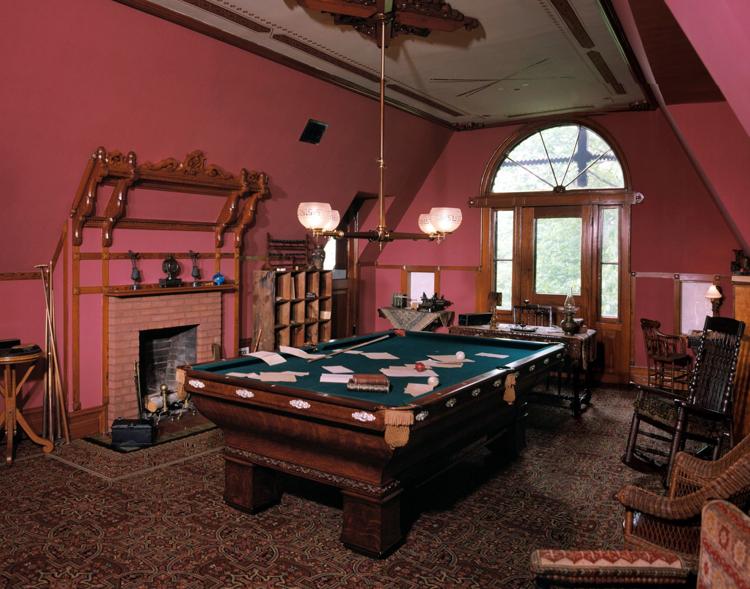 "I tend to think Hartford provided a new kind of fertile field for his creativity. His 17 years here inspired his most creative production period," says Steve Courtney, curatorial special projects coordinator of the Mark Twain House. "While in residence in Hartford, and retreating to his summer home, Quarry Farm in Elmira, New York, he wrote 'The Adventures of Huckleberry Finn' and 'The Adventures of Tom Sawyer,' making his revisions in Hartford and wrote hundreds of short pieces, along with much of 'A Connecticut Yankee in King Arthur's Court.'"
To visit where Twain's masterpieces were born, climb to the third-floor billiard room. Twain's small, cluttered writing desk is shoved in a corner where paper litters the floor. The billiard table on display remains cluttered with papers, books and cue sticks. Just as it would have been when Twain was in residence.
The Ombra (Italian for shadow), the attached covered porch Twain called "the deck," still provides a shady retreat for those waiting to begin a tour, which requires a ticket. A house tour admission ticket includes admission to the home, museum and special exhibits such as "Twain's Attic," which was on display prior to the COVID-19 closing of the house; though the house has reopened, that exhibit has not yet ($13-$21, marktwainhouse.org).
An extra five bucks upgrades the hour tour to a Living History Tour. A history buff's delight, it features costumed interpreters portraying family members and service staff who guide visitors through the home's otherwise overlooked nooks and crannies. An added treat to the Living History Tour is a trip to the basement for a close-up look and chance to touch select artifacts such as toys and a first-edition copy of "Tom Sawyer."
Before leaving the estate, consider visiting the home of Twain's next-door neighbor and friend, Harriet Beecher Stowe, the author of "Uncle Tom's Cabin." A joint ticket for both homes saves a few bucks and are sold at both sites.
---
GET OUT OF TOWN with our weekly newsletter full of tips, tales and reviews.