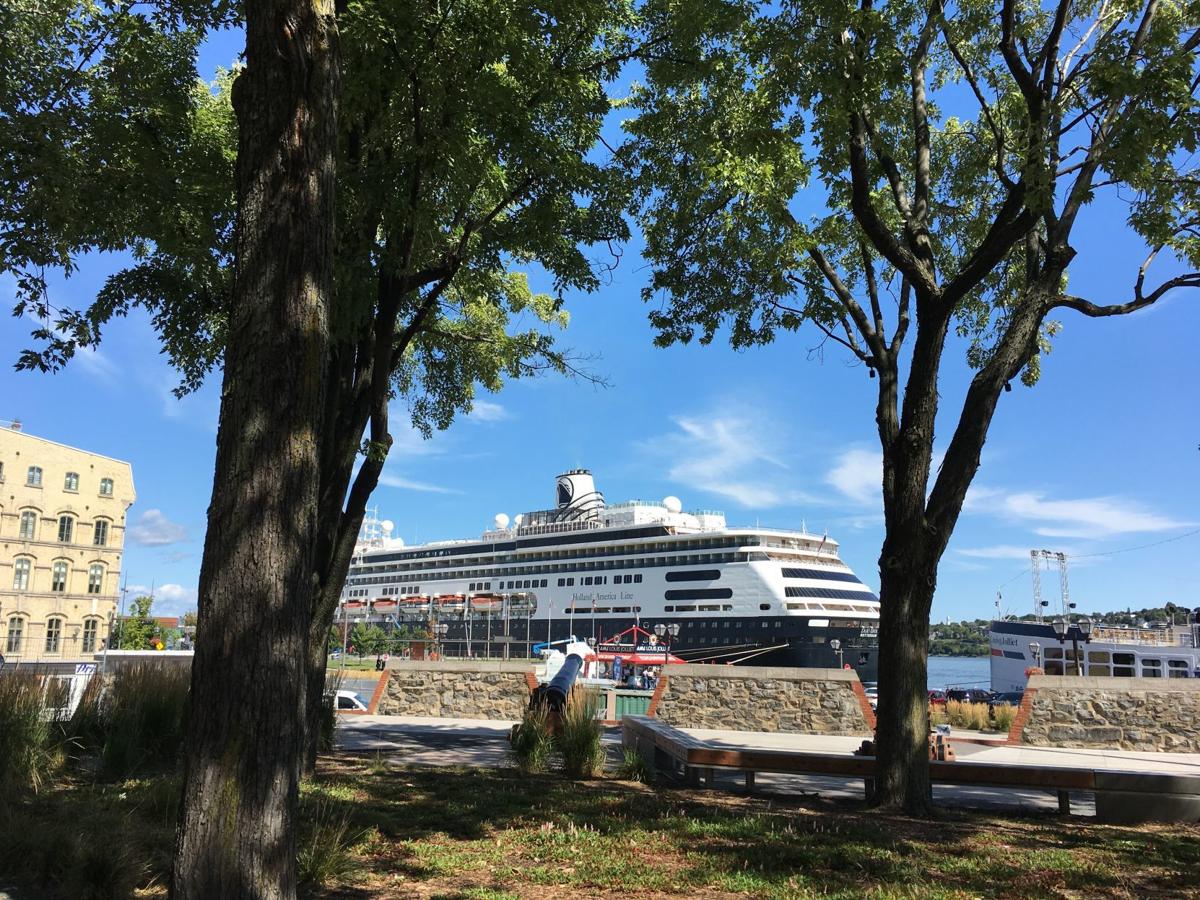 Four female friends; one shared vacation.
Where would we go? What would we do? How would we ever agree?
We know one another well, with some friendships dating to high school. But our personal wish lists varied as widely as "somewhere with great museums" and "somewhere with great T-shirt shops."
OK, we decided, we'd go on a cruise. But none of us wanted to lounge by a pool for days at sea, only to arrive at an island and lounge on a beach. We wanted to see and do a lot of different things.
Surprisingly, even to us, the answer turned out to be right in front of us — or, rather, due northeast: Canada.
The time, the week leading up to Labor Day, was right. So was the price, discounted because summer fun season would be over and leaf-looking season wouldn't have started.
And so we booked two cabins for two on Holland America's Zaandam, sailing to ports in Canada's Maritime provinces (Halifax, Nova Scotia; Sydney, Cape Breton Island; and Charlottetown, Prince Edward Island) from Boston via Bar Harbor, Maine, ending in Quebec City and Montreal.
Did we choose right? Absolutely. The weather was mostly beautiful. (We missed the edge of a hurricane in Halifax by almost a week.) We survived a harrowing, accidental trek on a logging road on Cape Breton Island with no casualties. We visited museums and, yes, T-shirt shops. And each of the four of us agreed afterward that this was one of the best trips we'd taken.
A seven-day cruise with six stops doesn't allow for an in-depth exploration of any. We opted not to take any of the ship's excursions but to explore on our own instead. With four people, we found that we could rent a car or even book a private tour and still save money.
Freedom meant lots of advance planning, but that was part of the fun. We read about the different places we'd visit, hashed out details — a maple sugar shop? awesome — and made reservations when necessary.
Port by port, here's a look at what we did, learned and ate.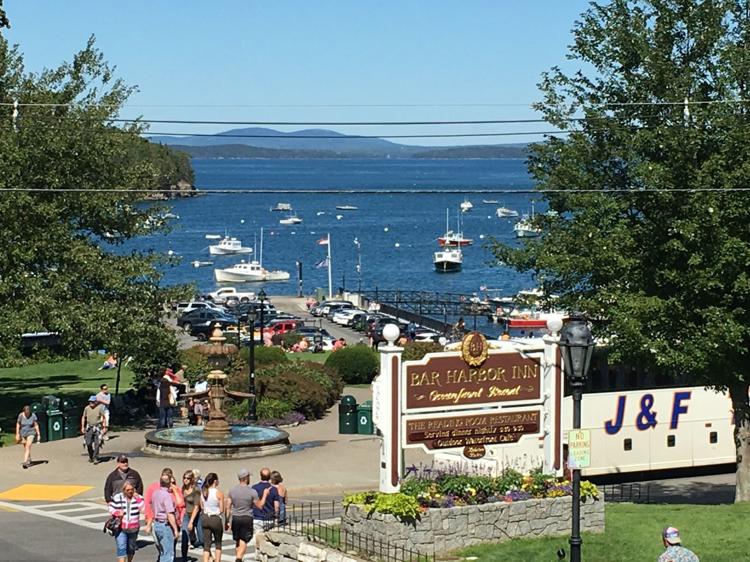 Bar Harbor, Maine
Our only port of call in the United States was beautiful Bar Harbor, once a playground of the super-rich, including Joseph Pulitzer, and now a jumping-off place to explore Acadia National Park. We arrived on the clearest day the locals could remember, climbing the hill that is Main Street while looking out at the sparkling blue water dotted with white sails.
To see Acadia, we opted for a National Parks Service bus tour ($35), and although the bus couldn't be described as comfortable, the tour guide was knowledgeable and we saw the park's highlights, from soaring Cadillac Mountain, where some months the sunrise is the first seen on the continent, to the raucous water of Thunder Hole.
Back from the 2 ½ tour about lunchtime, we had lobster rolls and haddock and chips at Testa's restaurant (53 Main Street, where you also pick up your tour bus tickets). That gave us time to enjoy Bar Harbor's prime shopping before boarding the tender back to the ship. (Bar Harbor was the only stop where we didn't disembark right at the port.)
Do: Get your park tour tickets well in advance if you're taking the bus; we saw people being turned away. And don't leave town without a whoopie pie, a Maine specialty of cake and filling, blueberry and lemon in our case.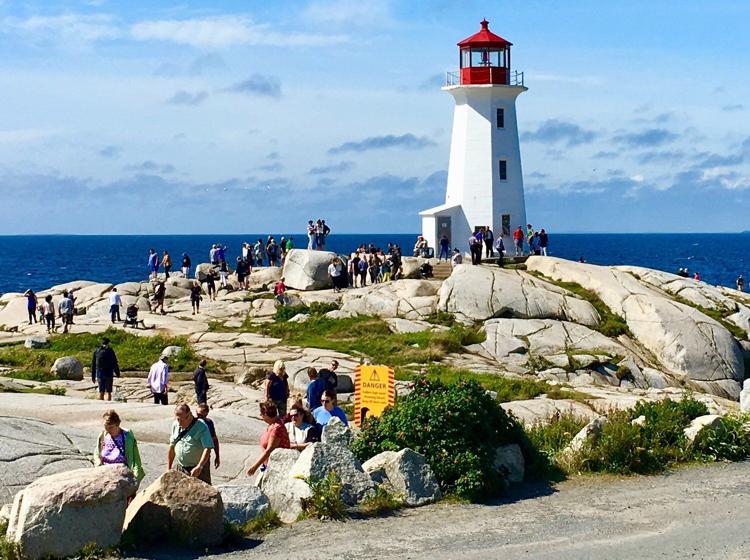 Halifax, Nova Scotia
The provincial capital of Nova Scotia, with almost half a million residents, Halifax has one of the largest natural harbors in the world and is a major hub for shipping. (The cruise port is also a major hub for T-shirt shoppers.) We booked a five-hour private tour ($325 Canadian for the six of us) with Halifax Tour Guys, which sent guide Earl to meet us at the terminal for a trek to Peggy's Cove, about an hour away via a stop at Acadian Maple Products (13578 Peggy's Cove Road), where we came away with everything from maple syrup to maple whiskey.
Peggy's Cove is home of one of the most famous, and most photographed, lighthouses in Canada. It's a huge draw for visitors, and we were glad we had Earl to drop us off amid the crowds crawling all over the smooth stones on which the lighthouse perches. En route and back, Earl stopped whenever we asked and regaled us with stories about previous passengers and, when we demanded it, local history, including the infamous Halifax Explosion, which killed 2,000 people in a neighborhood adjacent to the port in 1917.
But our favorite stop in Halifax was one we stumbled over in a guidebook, the Art Gallery of Nova Scotia (1723 Hollis Street; $12 Canadian), which houses the home and works of artist Maud Lewis. If you've seen the movie "Maudie," starring Sally Hawkins, you know that Lewis suffered from a crippling disease that didn't keep her from becoming a prolific folk painter who covered every inch of her tiny house with her bright, cheerful works. After her death in 1970, the house was saved and eventually moved into the art gallery, where it is on permanent display along with many of her works.
Do: Watch "Maudie" before you go, if you can; it was showing on our ship. And don't miss the gift shop, full of Maud Lewis cards, prints and calendars.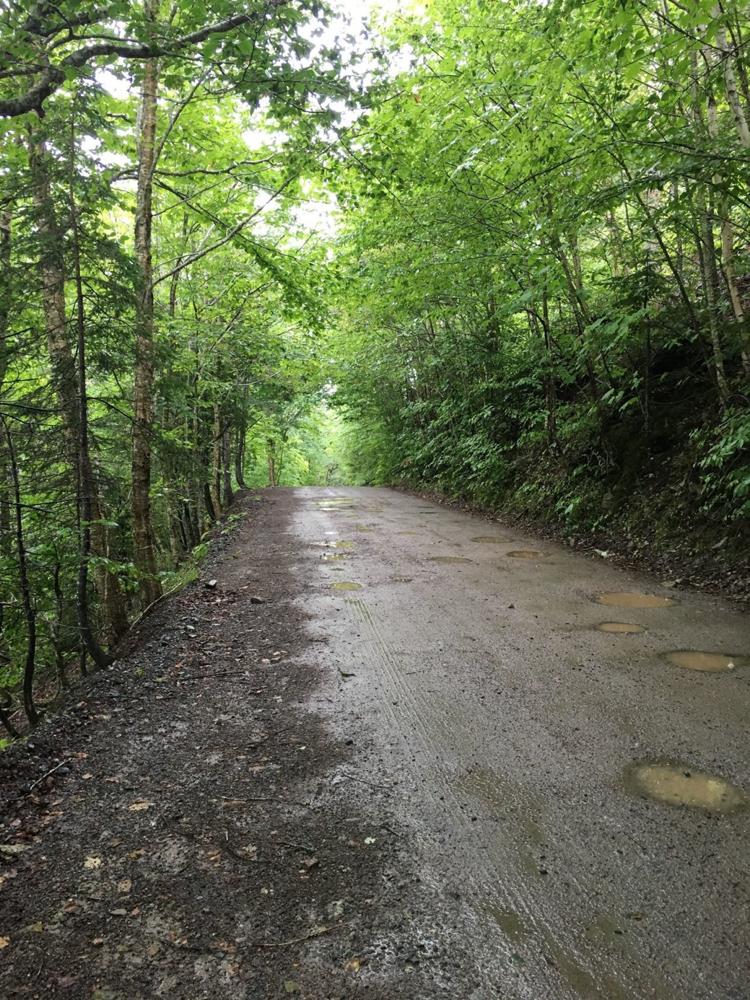 Sydney, Cape Breton Island
Once a steel and coal-mining hub, Cape Breton saved its economy by investing in tourism. Many visitors arrive in summer to hike 185-mile Cabot Trail, much of which follows the rugged coastline. We weren't out to hike but had an adventure with nature anyway. In our rental car, we turned off the main road to take a lake picture, and GPS informed us that our new road was a shortcut to our destination, the Alexander Graham Bell National Historic Site and Museum in Baddeck.
Turned out, not so much. The new road climbed and narrowed, becoming more and more muddy and rutted, with a steep drop-off on one side. Fallen trees suggested it was used only by utility companies. Our intrepid driver pressed on while the rest of us worried that we'd plunge into a ravine and never be found, but we did emerge, eventually, on the other side.
There, we found the Baddeck Co-op (48 Twining Street, the main drag) selling Julia's Cape Breton Oat Cakes, a delicious, crumbly specialty, which fortified us to make our way to the Bell site. Mabel Bell, the inventor's wife, liked Cape Breton and the Bas d'Or Lake so much that the couple built a summer retreat there. In Baddeck, Bell worked on experimental water craft, including a record-setting hydrofoil, and the new museum ($7.80 Canadian) celebrates that work. Regular presentations in the lobby talk about his life and that of his wife, who was deaf. Or, if you just want to sit on a comfy couch and look at the lake, you can do that, too.
Do: Consider a "ceilidh" (kay-lee) tour on Cape Breton, a hub of Celtic folk music in Nova Scotia. In a short day, you won't have time to visit a pub or festival, but we met a bagpiper who was preparing to lead a "Spirit of the Fiddle" event with music and food that was appealing in retrospect ($65 U.S., booked through the ship).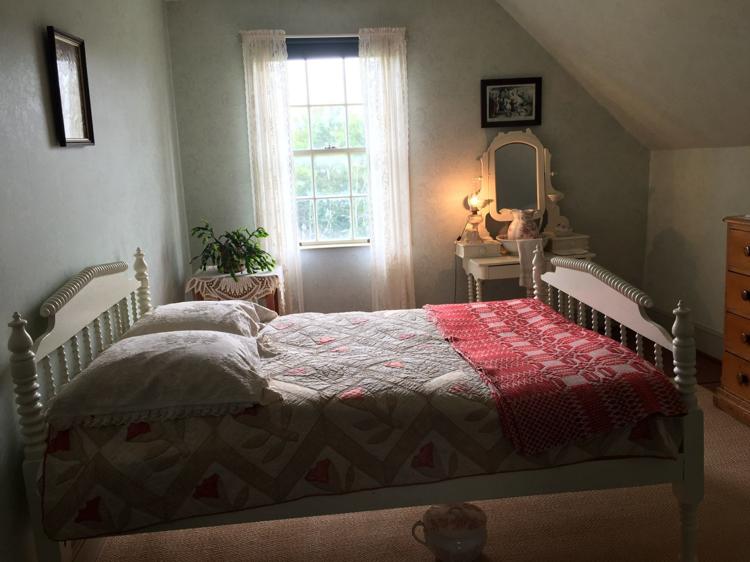 Charlottetown, Prince Edward Island
We were all about "Anne of Green Gables" on PEI, where the Lucy Maud Montgomery stories are a major industry. "All Things Anne" boasts TourismPEI.com, the official website. From Charlottetown, on the southern coast, we set out in a rental car all the way across the island to the north — a trek of about 45 minutes.
Our destination was Cavendish, the home of Green Gables Heritage Place ($7.80 Canadian), which re-creates the house that inspired the Cuthbert farm in Montgomery's classic novels. She didn't live in the 19th-century house, but it's easy to imagine that Anne did as you walk through rooms lovingly furnished with items from the period. We stopped to chat with docents in various rooms who talked about the home and its stories. Outside, rose gardens were still in bloom, and in the barn, girls and moms were putting on straw hats to pose as Anne. We also saw at least one teenage threesome, including one young man, in straw hats complete with red "Anne" braids.
Aside from all things Anne, PEI is known for its beaches and for its crops. The island produces 100 kinds of potatoes, its main commercial crop, and ships them all over the world. More famous are Prince Edward Island mussels; look for them in flooded fields where strings keep them from getting sandy. (Read about how PEI mussels are grown from wild seeds, in socks. It's fascinating.)
Our day was overcast and windy, but we wanted a beach lunch, so we set out driving to the shore. Realizing it was too offseason, we gave up and headed back to Charlottetown, fortunately, where we had a lavish lunch at Brakish (2 Lower Water Street; seasonal), a harborside cafe that served up mussels, lobster rolls and poutine, that uniquely Canadian concoction of gravy and cheese curds atop French fries.
Do: Save time to shop along the Charlottetown harbor and walk the boardwalk, and take back a "Beaver Tail," a fried pastry with toppings of your choice.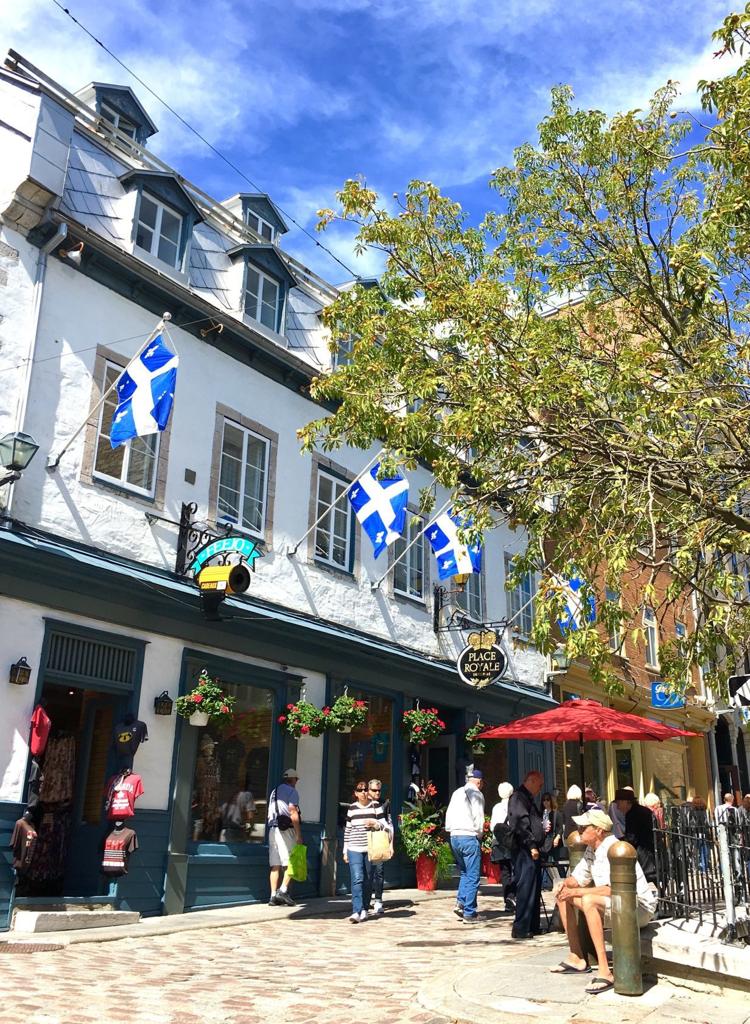 Quebec City
After our only day at sea, when we enjoyed two "America's Test Kitchen" cooking classes, we docked in Paris — that is, in the most Parisian city in North America. Quebec City is charming and exhausting, with steep streets in the lower city and an even steeper climb to the upper city, with a spectacular 360-degree view.
We started with a hop-on tour ($33 Canadian), sitting atop the bus and wishing for parkas and gloves to fend off the wind. Here, we disagreed about the value. One of us enjoyed the tour, but another thought the recorded narrative included far too much about utilities, employment and office buildings to be much fun. We also sat a long time at stops with nothing to see.
When we reached the upper city, we hopped off, never to return to the bus, and split up to sightsee and shop. Wandering the cobblestone streets of the walled city, a UNESCO World Heritage Site, is enough to fill a day or more, even without visiting the beautiful churches or many museums.
Do: Pop into Paillard (1097 Rue Saint-Jean) for the best croissants and other pastries in Quebec City. It's run by Rebecca Simard, who grew up in Freeburg, Ill., and moved to Quebec to learn French, then stayed.) And for the best poutine (admittedly an acquired taste) we had anywhere, look for Le Chic Shack (15 Rue du Fort).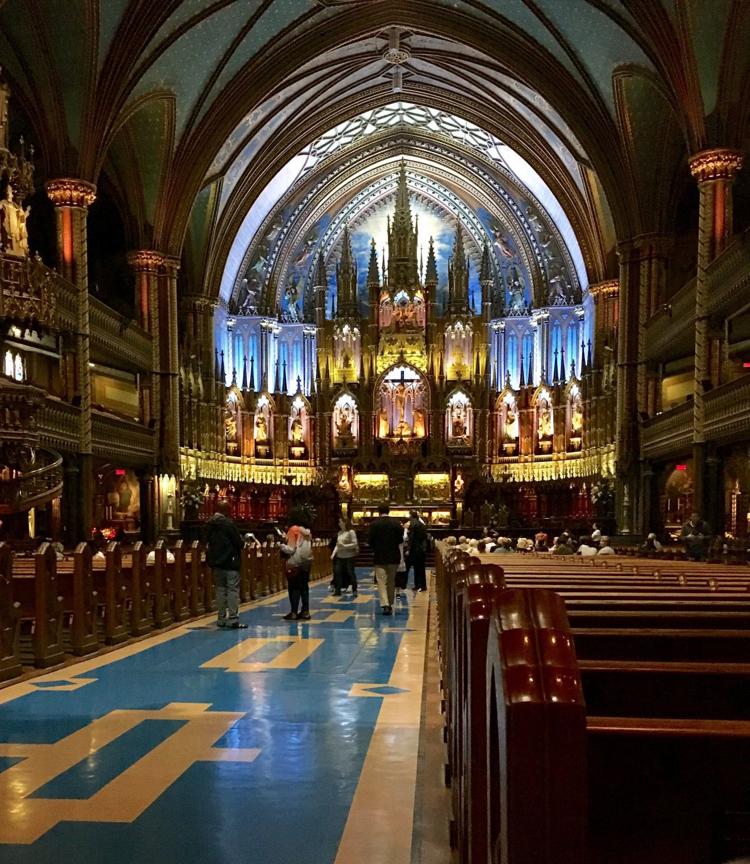 Montreal
Leaving the ship, we cabbed to our hotel with no plans for the day except to see something of Montreal before packing to go home. The charming desk clerk at the Hotel Place d'Armes (55 St. Jacques Street) took our luggage and sent us immediately to the Basilica of Notre Dame de Montreal, just around the corner on the Place d'Armes, to beat the crowds. A $5 Canadian entrance fee pays for upkeep on the gorgeous church; it's filled with statues and stained glass, but the main pleasure here is to sit quietly and wish a choir would sing.
Later, we walked around some of the shopping streets in Old Montreal, seldom knowing where we were and never caring, before wandering down to the port, attracted by an enormous Ferris wheel (La Grand Roue, $25 Canadian). Montreal would take much longer than a day to see, but even a few hours was enough to know we needed to come back.
Do: Try Montreal's famous "smoked meats"; travel guides will send you to some of the best places, but be prepared to wait in line. And if you're a fan of Louise Penny's "Three Pines" mysteries, consider staying over a day and traveling to the Eastern Townships, where Knowton and other towns inspired the village in the books. We did, but that's another story.
A few days after we got home, we were already talking about where to cruise next. Alaska? Hawaii? Through the Panama Canal? How would we ever decide?
---
How much: Discussing cruise prices is pretty much irrelevant because they vary so widely. But we paid less than $1,000 each for seven nights, including taxes, fees and travel insurance but not, sadly, cocktails and internet. (Each passenger can take on only one bottle of wine without additional corkage fees.) Free, last-minute upgrades from the bargain-basement cabins we'd chosen in the name of economy even gave us windows onto the generally calm ocean, and now we'd never cruise without at least a smidgen of a view. Exchange rates fluctuate, but the Canadian dollar is worth about $1.30 U.S. A quick way to convert is to figure that for every Canadian dollar, you're spending 75 cents. We never converted in our heads and were just happy when we got home to see how much less we'd paid for everything.
The ship: The Zaandam could be considered a basic ship, neither shabby nor lavish. With fewer than 1,400 passengers, most 60-plus in age, it's an ideal size. The food was fine, except in the restaurants that required an upgrade, where it was excellent. We could have eaten every meal on the ship but didn't mind paying for lunches on shore because that gave us a chance to sample local specialties. The entertainment was, generously, a C, but we were too tired to stay up most nights anyway. The cabins were not too cramped, with efficient storage space and hard beds that turned out to be great for the back. Our bathroom, with a challenging tub-shower combo, was in need of an upgrade, which it will apparently get soon. More info: hollandamerica.com
Things we wish we'd known: Formal nights aren't really formal anymore, or even necessarily that dressy; some women wore cocktail attire, but we also saw a man in shorts. Tips for cruisers may suggest you take lots of gimmicky items (shoe bags for extra storage; clips and hooks and magnets) that really aren't needed. Do, though, take lounging clothes for the cabin, and maybe a cozy throw. Check and double-check your phone plan in advance or prepare to be hit with international roaming charges, and think about buying an at-sea program that will give you internet access. And keep track of your cocktail spending. Between $10 Cosmopolitans and $90 web surfing, we added several hundred dollars to our bill.